Airline check in:
You are able to check in online 24 hours prior to your flight departure.  Occasionally if the group file is too large you may be required to check in at the airport upon arrival.
Seating on the plane
Seat selection has been done as a group by WestJet Groups. If you wish to choose specific seats in advance, there will be a seat charge and can vary depending where on the aircraft you choose to sit.
Baggage Restrictions  with WestJet
Checked Baggage: Bag 1 – No fee up to 50lbs
Carry on allowance: You are permitted one carry-on bag, plus one small personal item (purse, laptop bag etc.).
Documentation
Canadian Citizens require a valid Canadian passport for travel to Mexico. Canadian citizens using a Canadian passports do not require a visa to enter Mexico. Some other country passports may require a visa.
Arrival into the Los Cabos Airport
After clearing customs and baggage claim, please exit immediately into the Arrivals Hall where you will be greeted by a representative from One by One Incentives holding a Tango Rocks sign.  They will direct you to the applicable waiting area / coach transfer.
Roundtrip Transfers are provided for those travelling on Feb 2nd and Feb 5th only.

Hotel Location & Contact
Hard Rock Hotel Los Cabos Resort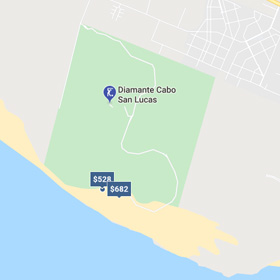 Check in – Feb 2nd / check-in begins at 3pm
Check out – Feb 5th / check out by 12:00 pm
Please Note: You cannot swim off the beach at the Hard Rock Los Cabos Resort.